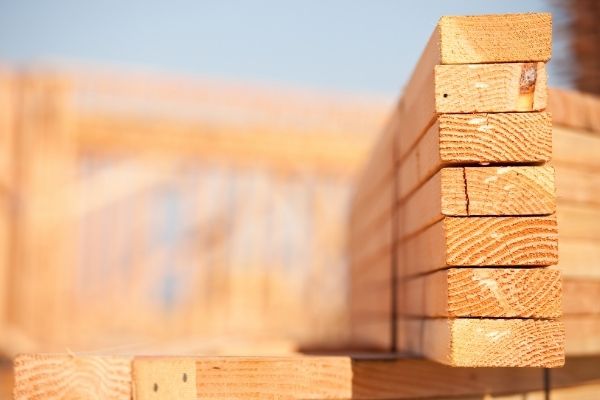 Lumber Price Volatility Has Reached Levels Not Seen Since The End Of World War II
By /
The price of vital building material is more volatile today than it has been since World War II's end.
According to the National Association of Realtors, this should be a source of concern for both home purchasers and renters.
According to the Bureau of Labor Statistics, the cost of building materials rose 1.5 percent in December, according to a recent National Association of Home Builders report.
The increased cost of lumber was a major contributor to the overall increase.
According to federal government figures, the price of softwood lumber has risen about 45 percent since September.
According to other data, the price mills charge for lumber used to frame homes has tripled since August.
Price increases are one issue, but unpredictability is another.
Lumber prices have changed drastically throughout the outbreak.
Between 1947 and 2019, the monthly change in softwood lumber prices averaged 0.3 percent.
However, it has averaged 12 percent since January 2020.
According to the research, this is not only the greatest average monthly change over a two-year period since this data began being gathered in 1947, but it is over three times the previous record.
That instability is reverberating throughout the housing market, which is already struggling to owe to a record-low inventory of available homes for sale.
"When you introduce the cost volatility that you see in major products like lumber, it just makes it that much more difficult for builders to expand their level of home construction, which in turn, reduces the available inventory in the market," Robert Dietz, chief economist at the National Association of Home Builders said.
"So the cost volatility you see in the construction space is in part responsible for some of the price gains in the overall housing market."
It's tough to overestimate the value of lumber to home builders.
Dietz estimates that 90 percent of single-family homes built in the United States are wood-framed. In comparison, just 9% are concrete-framed, while the remainder is steel-framed.
"As goes the lumber industry so goes pacing and pricing of single-family home-building," Dietz stated.
In the most obvious sense, the volatility of lumber prices has led to the increased cost of newly constructed homes.
As of November, the most recent month for which data is available, the median price of these residences was up 19% year on year.
"Higher costs for lumber and other building materials are often passed on to the buyer in the form of higher new-home prices," Odeta Kushi, deputy chief economist at First American Financial Corp stated.
"The challenge for builders is how they deal with higher material costs, while keeping new house prices within reach for buyers, particularly in a rising-rate environment."
Uncertainty in material pricing has the greatest impact on entry-level homes, according to Dietz, because these customers are more price-sensitive.
And, to some extent, the volatility may influence builders toward building higher-end homes because the greater expenditures are more easily absorbed.
Of course, lumber is utilized for more than just building single-family homes.
It's also utilized to frame individual apartments in multifamily structures and to modify existing residences.
So, to the extent that such activities become slower or more expensive as a result of the availability and pricing of wood, it will have an impact on the rental market as well.
Whether you're a house buyer or a renter, the most distinguishing element of today's housing market is the scarcity of affordable options.
It reflects how undersupplied the housing market is—the US is short 5.2 million housing units, according to Realtor.com.
"This housing shortage results from the fact that we have seen more new households than new homes over the last decade, and even in the absence of supply-chain challenges and input-price volatility that shortage has stressed the housing market," says Danielle Hale, chief economist at Realtor.com.
Given the importance of home development in that setting, any impediment to construction will have a significant impact on households across the country.
"Consumers in the market for a new home should be prepared to wait, and with price volatility and other challenges contributing to delays, the wait is likely to be longer than usual," said Hale