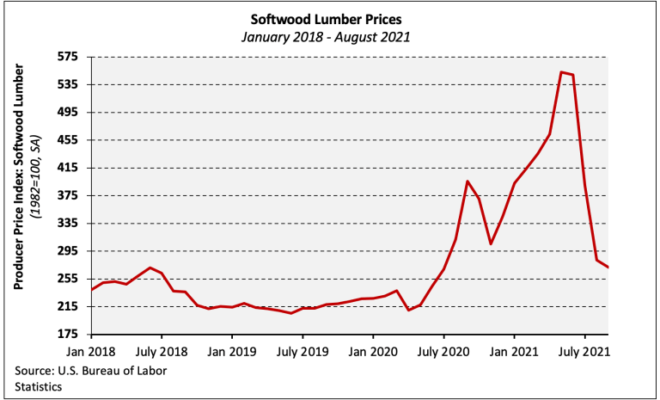 Lumber Prices Fell for the Third Time in a Row in September
By /
Prices paid for goods used in residential construction fell 0.8 percent in September, owing to lower lumber and concrete product prices, according to the Bureau of Labor Statistics' latest Producer Price Index (PPI).
Despite the decline, the National Association of Home Builders (NAHB) project lumber prices will rise again in October.
The PPI also revealed that the price of service inputs fell in September, owing to lower gross profit margins for building materials retailers.
Despite the monthly drop, the NAHB reports that building materials prices are still 13.9 percent higher than in September 2020 and 11.3 percent higher than in January 2021.
The softwood lumber PPI fell 3.5 percent in September after falling more than 27.0 percent in both July and August.
Despite the declines, the Random Lengths Framing Lumber Composite Price for lumber has risen 36.0 percent since its August low, implying that the softwood lumber PPI will rise again in October.
Read more at Eyeonhousing.org
Liberty Cedar

Leading top quality specialty wood products, tropical lumbers & domestic hardwoods, custom milling and flooring, trim packages, timbers and other materials serving Rhode Island, Massachusetts, Connecticut, and Long Island with excellent customer service. Delivery to other areas via common carrier.

Order online at Libertycedar.com