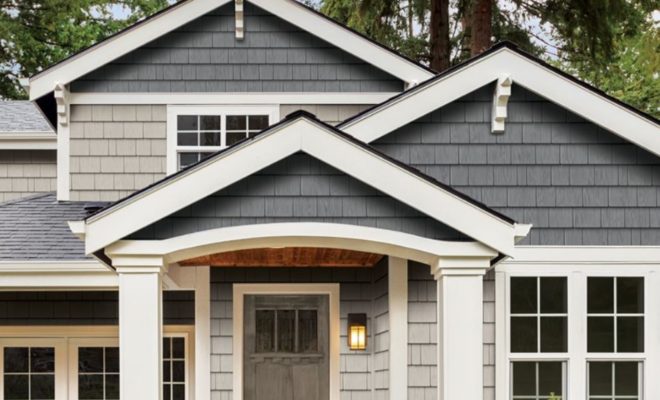 © Royal Building Products
Royal Building Products Expands Cedar Renditions Line to Include Soffit
By /
Soffit has been added to Royal Building Products' award-winning Cedar Renditions by Royal Aluminum Siding.
The newly added 6″ soffit is now available in the United States and Canada. 8" siding and the new Aluzinc color—an industrial modern metallic gray—are exclusive to the Canadian market.
Royal's 6″ Soffit in its Cedar Renditions line, new for 2021, is perforated for ventilation and designed to keep moisture out of the home.
Cedar Renditions 6" Soffit is designed to work with the existing 6" Cedar Renditions siding profile and is available in Premium, multi-tonal woodgrain color options as well as Traditional woodgrain color options.
Cedar Renditions, which was introduced to the US market in 2019, is a sleek and modern aluminum accent siding that provides exceptional curb appeal without the maintenance or flammability issues associated with wood.
The Cedar Renditions line now includes Royal's new Aluzinc color. Aluzinc, a contemporary metallic gray, provides a sleek, monochrome aesthetic for builders and architects.
Also new for 2021 is Royal's Cedar Renditions 8″ siding profile, which provides builders with more flexibility and less waste when combined with 6″ and 4″ siding profiles.
In the Canadian market, the new 8" profile, as well as a new 6" Cedar Renditions Soffit, are available in Premium, Traditional, and Solid colors.
"Our Cedar Renditions aluminum siding line has been in high demand in both the U.S. and Canada, especially among architects," said Steve Booz, Royal Building Products' vice president of marketing.
"We are excited to continue expanding this line with new soffit and color options, further enabling architects and builders to easily achieve a modern design aesthetic and a balanced exterior with premium aluminum accents."
Cedar Renditions provides several benefits in addition to a contemporary, distinct, and one-of-a-kind appearance:
Beautiful look of woodgrain siding without the maintenance
Seamless overlapping notch to achieve longer length
Easy installation with a drop-in interlock system
100% recyclable
Moisture proof, nonflammable and virtually maintenance free
PVDF top coat repels dirt build-up and stains
Cedar Renditions by Royal is backed by a 25-year Prorated Limited Warranty and can be purchased through select distributors across the U.S. and Canada.
Contractors Depot

Leading residential construction supply, & industrial building materials supplier, retail & distributor in Georgia, South Carolina and the surrounding Southeastern US. A family business specializing in architecturally specified construction materials, jobsite service & product knowledge.

Order online at Contractorsdepotinc.com