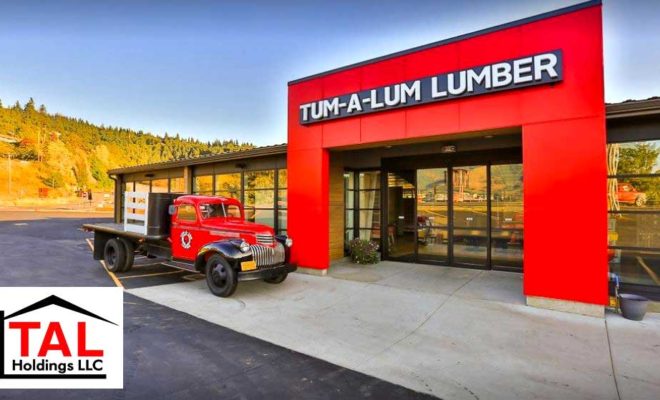 © Tum-A-Lum Lumber / tumalum.com
TAL Holdings LLC Acquires Mount Vernon Building Center
By /
Mount Vernon Building Center is being acquired by TAL Holdings. Over the next few weeks, TAL will relocate its reload center to the MVBC location.
TAL Holdings LLC, an Oregon and Washington-based dealer with ten retail building material centers, announced an agreement in principle to purchase Mount Vernon Building Center (MVBC) in Mount Vernon, Washington.
According to TAL, an all-employee meeting was held to inform MVBC employees of TAL's acquisition.
Mount Vernon Building Center will begin operations as part of the TAL family of companies on April 19 after a transition period. The acquisition's financial terms were not disclosed.
Milt and Sue Armstrong founded Mount Vernon Building Center in 1981 as a sister store to three other lumber yards in the area. Business expansion necessitated a move to a larger facility in 1991.
Milt Armstrong sold his stake in the company to three employees in 1997. The company relocated to its current location in Mount Vernon the following year. In 2008, one employee/partner retired, and the remaining two partners purchased her shares.
In 2017, a second employee/partner retired and sold his shares to the remaining partner, Kevin Kok, who is now the MVBC's owner.
Kevin Kok, the owner of MVBC in a statement "Since MVBC's beginning, the company has been focused on builders, remodelers and do-it-yourselfers. The company has always been involved in the Mount Vernon community as sponsors of many non-profit entities such as schools, churches, homeless shelters as well as youth sports activities. The community-mindedness of MVBC fits well with the mission statement of TAL Holdings which is 'Helping Build Better Communities.'"
TAL currently operates a reloading facility in Burlington, Washington, where it receives, reloads, and ships on the Washington State Ferry system every weekday.
At TAL's Friday Harbor Washington location, all products are stocked and sold.
David Dittmer, CEO of TAL said "The culture of Mount Vernon Building Center, the market they serve, and the quality of their personnel make MVBC an excellent fit for our organization. Because of their strong brand recognition, they will continue to operate under the name of Mount Vernon Building Center."
The Friday Harbor reload center will be relocated from its current leased location to the MVBC location over the next few weeks, according to the dealer.
Mr. Kok will be joining the TAL organization in the day-to-day management of the MVBC location.
"We are excited to join the TAL Holdings Team. TAL's resources and operational support coupled with their market strength makes for an excellent combination. I am pleased that TAL has decided to continue to operate under the Mount Vernon Building Center name." Kok continued.
"Mount Vernon Building Center has a strong, experienced employee group. Their years of experience in our industry make their locations the place to go for building solutions for the consumer as well as the contractor. This acquisition is an excellent addition to our company. We are anxious to expand our footprint in this growing market," added TAL CEO Dittmer.
TAL Holdings, headquartered in Vancouver, Washington, operates five LBM/Home Center divisions.
Tum-A-Lum Lumber, founded in 1906, serves the Oregon markets of Hood River, The Dalles, and Pendleton; Marson and Marson Lumber, founded in 1955, serves the Washington markets of Leavenworth, Wenatchee, and Cle Elum; Browne's Home Center, founded in 1947, serves the San Juan Islands of Washington; and Gerretsen Building Supply, founded in 1923, serves the Roseburg, Oregon market.
All five divisions offer a diverse range of building material products and services to contractors and homeowners.
Contractors Depot

Leading residential construction supply, & industrial building materials supplier, retail & distributor in Georgia, South Carolina and the surrounding Southeastern US. A family business specializing in architecturally specified construction materials, jobsite service & product knowledge.

Order online at Contractorsdepotinc.com