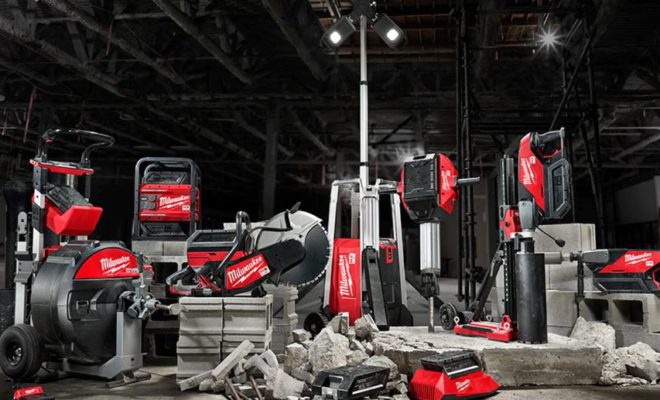 © Photo by Milwaukee Tool / milwaukeetool.com
Milwaukee Tool Announces New MX Fuel Cordless Light Equipment System
By /
The latest battery platform powers various items such as sewer drum machines, some saws, cordless breakers, and some core drills.
Milwaukee Tool announced the launching of the MX FUEL system, this new battery platform was designed for light construction equipment.
Its design eliminates the hazards often linked to gas-powered models which include emissions, noise, and vibration. It maintains first-rate performance, durability, and run-time.
"After spending more than 10,000 hours with users on thousands of jobsites globally, we discovered considerable safety and productivity challenges within some product categories – like gas-powered and AC equipment – due to very limited innovation," says Andrew Plowman, Milwaukee Tool's vice president of product management.
The MX FUEL system includes products in different categories, each one made to solve a potential problem a user might encounter:
The MX FUEL Tower Light/Charger, a 10-foot light that provides approximately 27,000 lumens of task or area lighting in various working conditions,
The MX FUEL Breaker has the features that allow it to break more than two tons of concrete per charge,
The MX FUEL Sewer Drum Machine w/POWERTREDZ has the features to clear roots approximately 200 feet out,
The MX FUEL CARRY-ON 3600W/1800W Power Supply provides power that is both portable and accessible,
The MX FUEL 14-inch Cut-Off Saw removes emissions, operates quietly, and creates true cuts,
The MX FUEL Hand Held Core Drill has the capacity to core approximately 6-inch holes in concrete without sacrificing safety and control.
Like the M12 and M18 products, MX FUEL products include Milwaukee Tool's:
POWERSTATE Brushless Motor
REDLINK PLUS Intelligence
REDLITHIUM Battery Pack
"From gas headaches to design features that were causing stress on users' bodies over time, it was clear that today's equipment wasn't delivering on user needs.
By dramatically reducing the hazards and frustrations of the light equipment that has dominated the marketplace for years, MX FUEL will fundamentally change jobsites everywhere," Andrew Plowman mentioned.